NOTE: I'M WORKING ON THE OUTLINE FOR A NEW BOOK RIGHT NOW. WHILE I'M BUSY AT THAT, THE NEXT SEVERAL POSTS ARE FROM A SERIES I DID A COUPLE OF YEARS AGO THAT PRECIPITATED A LOT OF CONVERSATION. I'D LOVE TO HEAR WHAT YOU THINK. COMMENT BELOW
WHEN I FINISH THE BOOK OUTLINE, I'LL BEGIN POSTING MATERIAL FROM THE NEW BOOK. I HOPE YOU'LL INTERACT WITH THOSE POSTS TOO. YOUR THOUGHTS/RESPONSES WILL HELP ME WRITE THE NEW BOOK. – DOUG.
We spend a lot of time in this blog talking about how science affects our fundamental understanding of ourselves and our world — and how that shift affects the way we are Christian. That's because (as we've seen in several posts) we're in the throes of the kind of major reality update that only happens every 500 to 1000 years. The last time it happened (the Renaissance) precipitated the Christian response we now call "The Reformation."Who knows what our present-day response will be called. I'm sure our grandkids will come up with an appropriate name.
It is interesting to note that each time Western society goes through one of these major updates, a significant technology accompanies the shift. Roman Roads carried the message of Jesus across the known world. The printing press carried the Protestant Reformation across Europe. And today's update is being broadcast on the internet. And make no mistake, the internet is changing us.
My wife and I were sitting in the living room watching Sophie's Choice the other night. I began wondering about the role of the Catholic Church in Poland during the years leading up to the Holocaust. Within seconds, out came the tablet. Within minutes, I had access to more information about the subject than I really wanted to know.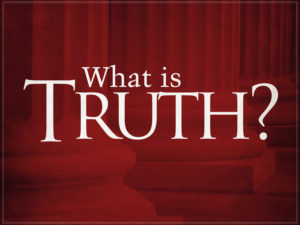 That simple act, which I'm sure you repeat several times each day, seems as normal as normal can be. So normal, in fact, that we may not recognize how profoundly that simple little act changes us; changes how we live in our worlds.
In this series of posts, I'll be talking about how living and breathing the internet is changing our very conception of what knowledge is; what truth is. That, in turn, rewires our most fundamental instincts about what it means to be a Church, to be Christian.  (Changes for the better, I'll argue.) Stay tuned.